Fortinet's award-winning FortiGate™ series of ASIC-accelerated Antivirus Firewalls are the new generation of real-time network protection systems. They detect and eliminate the most damaging, content-based threats from email and Web traffic such as viruses, worms, intrusions, inappropriate Web content and more in real time — without degrading network performance. In addition to providing application level protection, the FortiGate systems deliver a full range of network-level services — firewall, VPN, intrusion detection and traffic shaping — delivering a complete network protection services in dedicated, easily managed platforms.



With models spanning from SOHO to service providers, the FortiGate family spans the full range of network environments and offers cost effective systems for any application.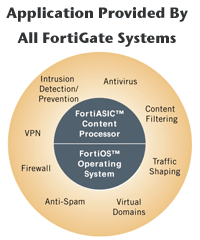 All FortiGate Antivirus Firewalls employ Fortinet's unique FortiASIC™ content processing chip and the powerful, secure, FortiOS™ operating system to achieve breakthrough price/performance. The unique, ASIC-based architecture analyzes content and behavior in real time, enabling key applications to be deployed right at the network edge, where they are most effective at protecting enterprise networks. As the only systems in the world that are certified by the ICSA for antivirus, IPSec, firewall and intrusion detection functionality, FortiGate systems deliver the highest level of security available. They add a critical layer of real-time, network-based antivirus protection that complements host-based antivirus software and supports "defense-in-depth" strategies without compromising performance or cost. They can be deployed for antivirus protection and content filtering alone in conjunction with existing firewall, VPN, and related devices, or as complete network protection systems with just a simple configuration change.